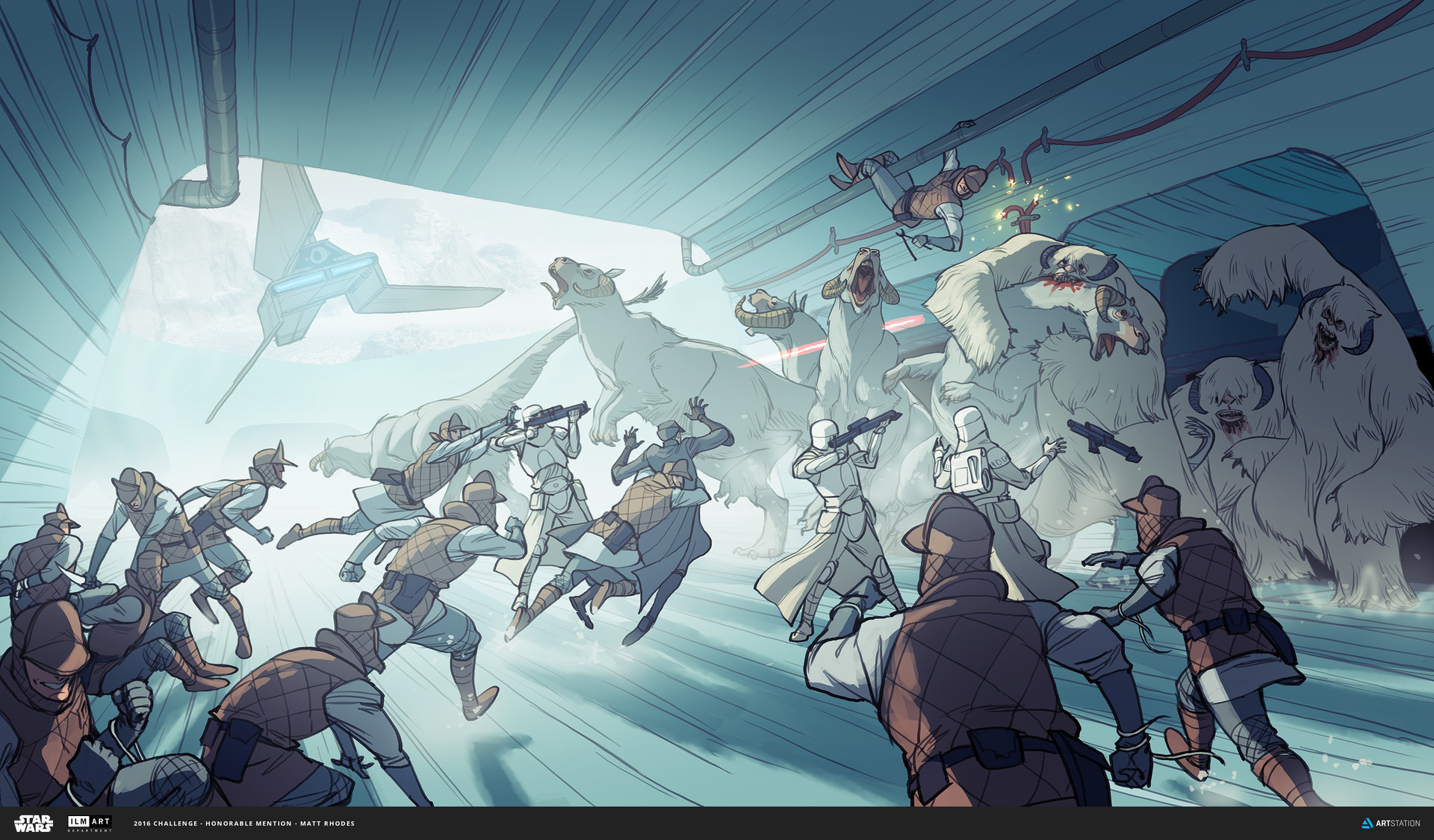 "Cages Cut Open" A brave Rebel cuts some wires, releasing the wild animal cages. The Rebels know what the Empire doesn't: that Wampas go after Tauntauns like sharks go after seals. They use the distraction to their advantage.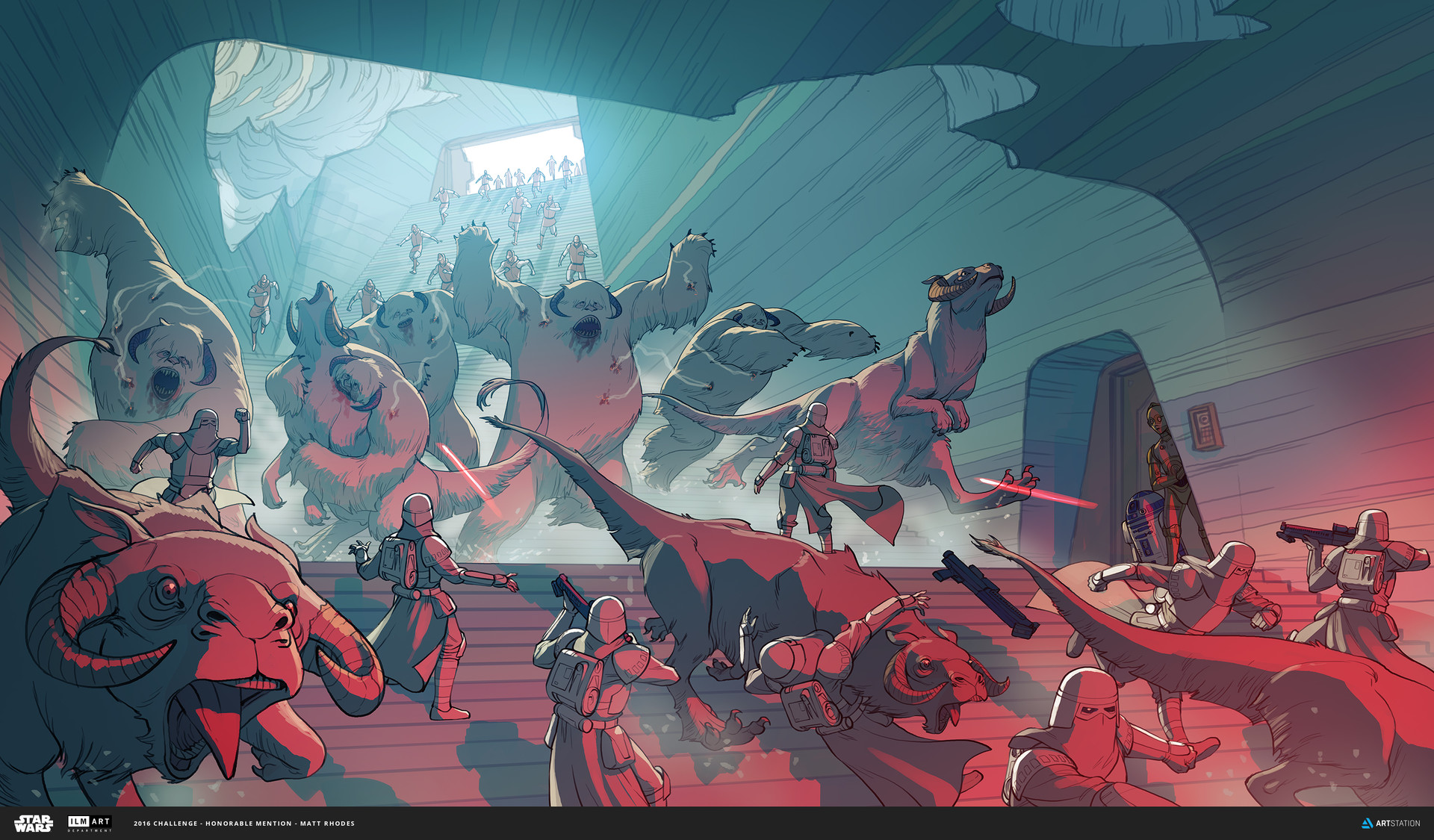 "Stampede" The Wampas and Tauntauns are in a frenzy, cutting a path through the Empire's ranks. The Rebels use this to their advantage to gain ground. R2-D2 and C-3PO are caught right in the middle of the conflict.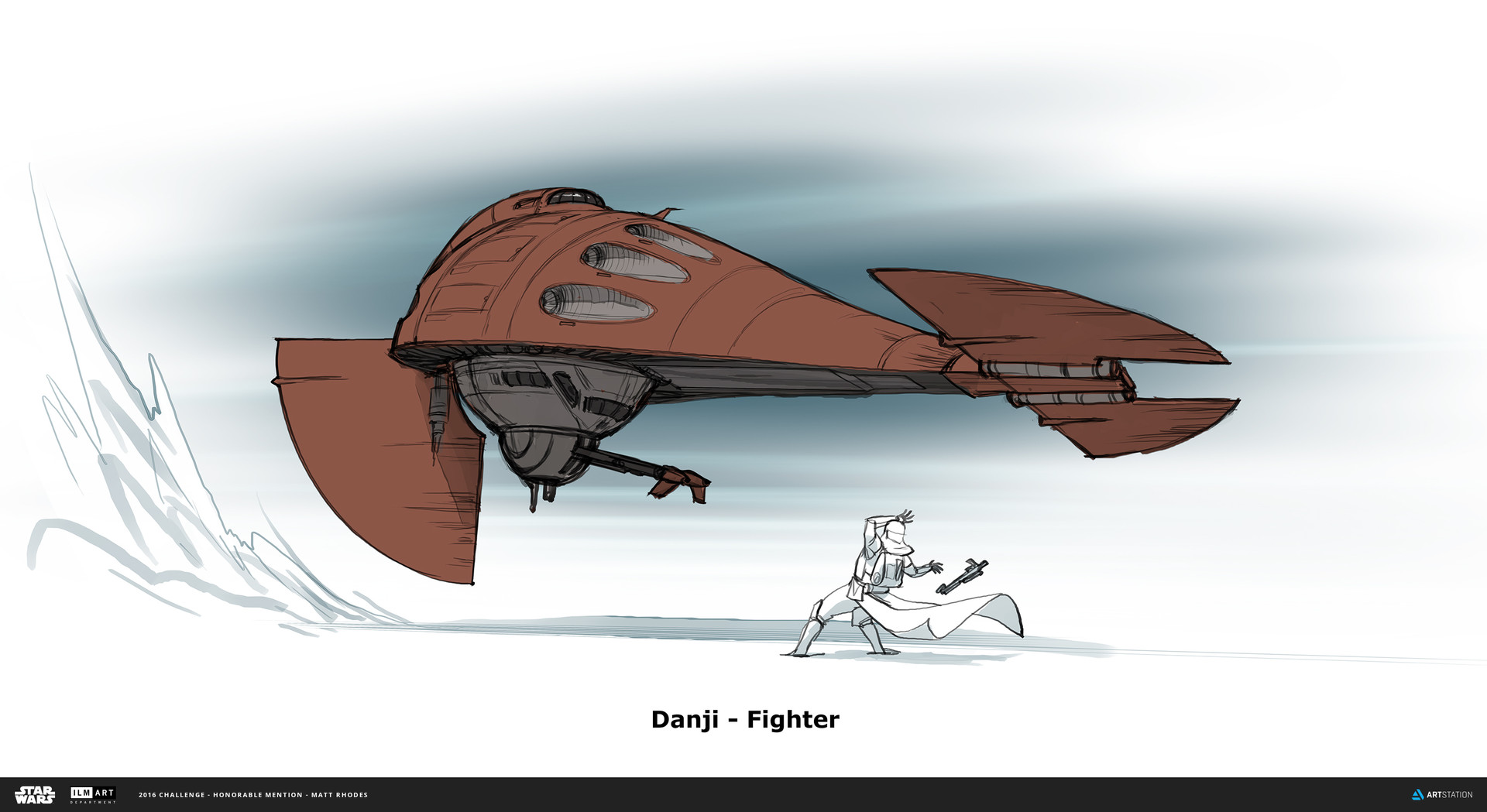 The Fighter is a 2-person craft, pilot and gunner like many star wars fighter craft. It can land on the ground by folding its fore-wings down. You can see in the reference that this is based on an upside down oil lamp.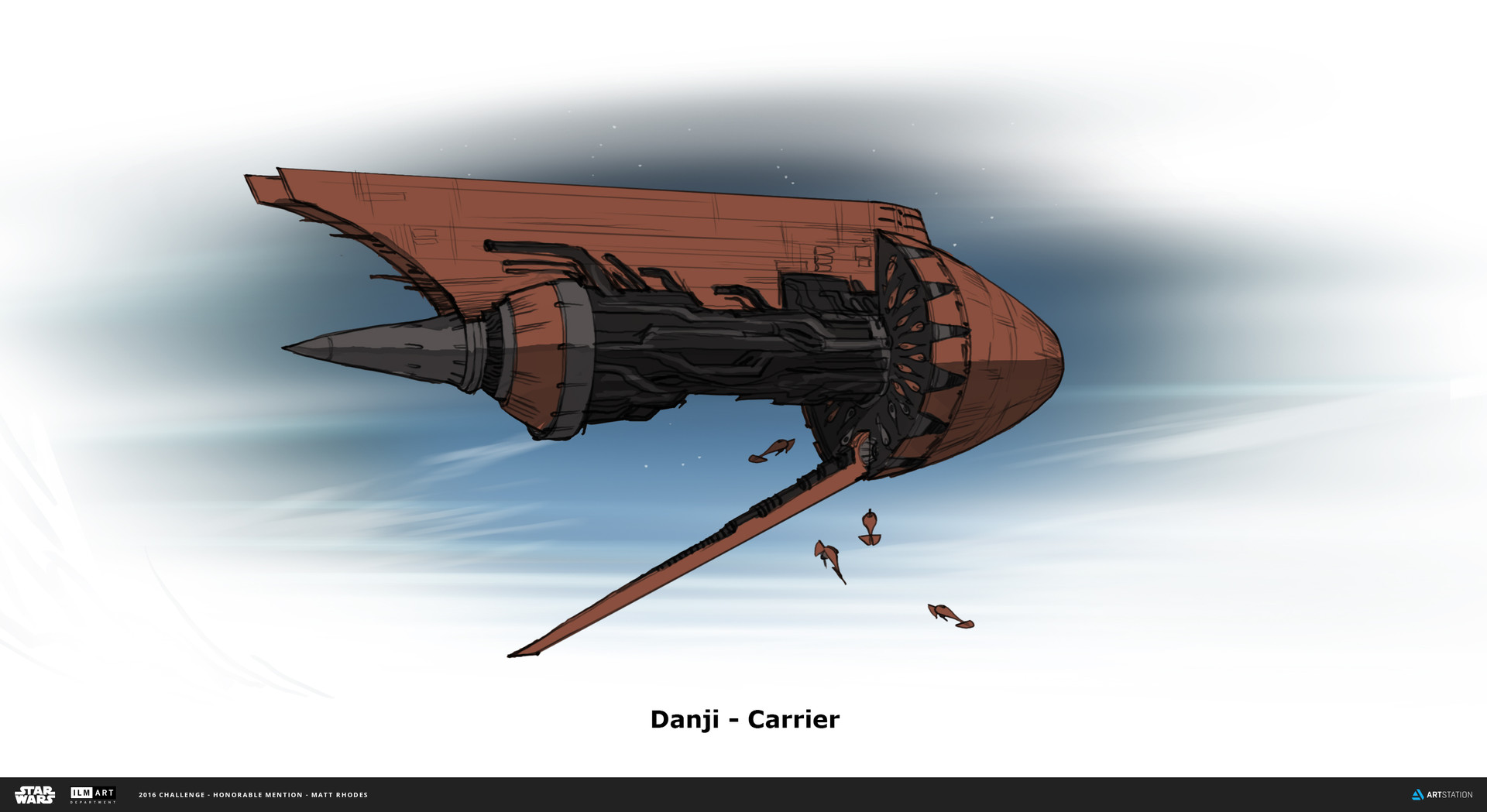 The Carrier is mostly engine. It delivers the fighters to the lower atmosphere, flying overhead and dropping them like seeds. This ship is based off of a sideways Arabian tea/coffee pot.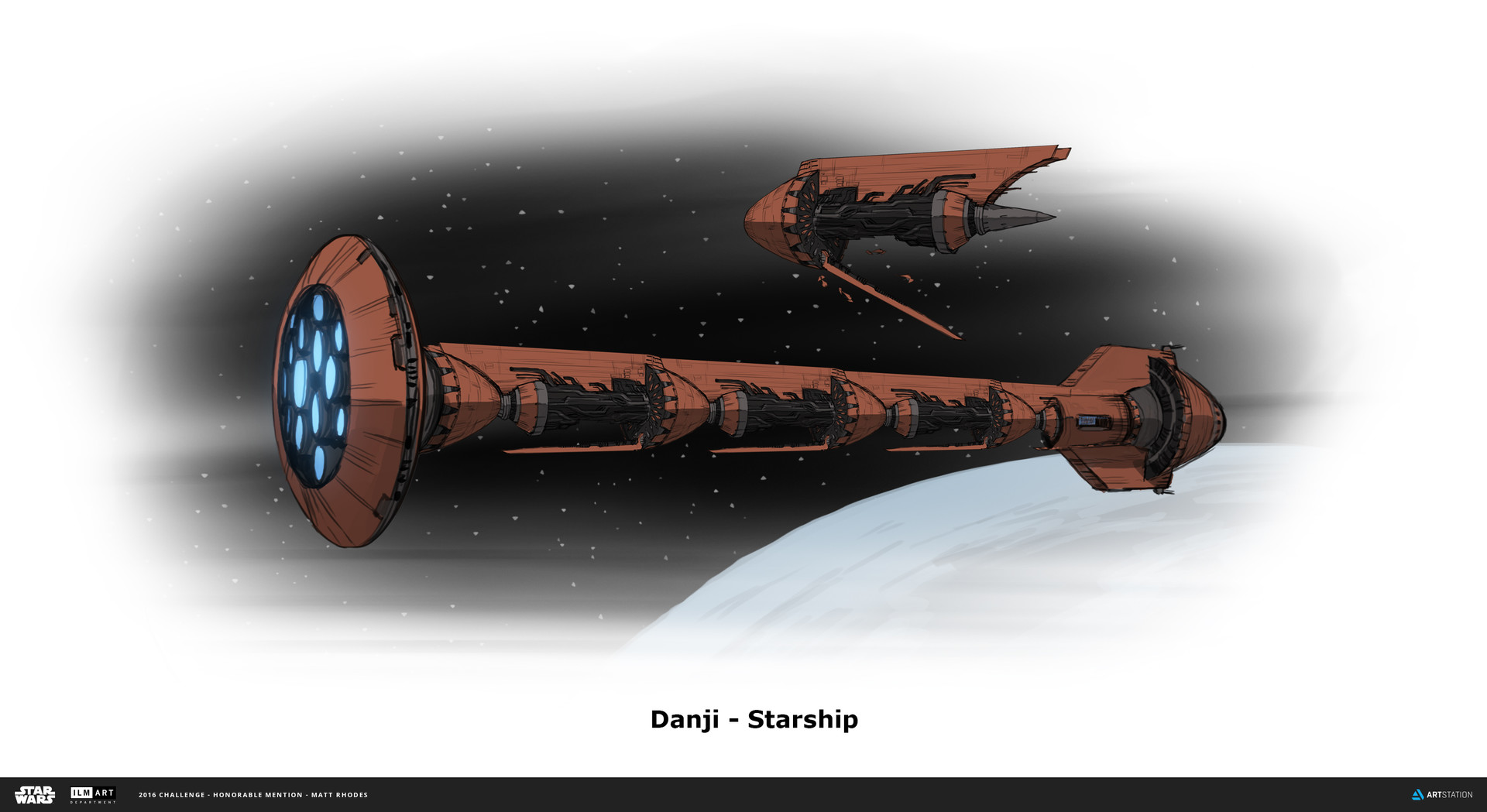 The Starship is made up of Carrier ships, with a head and propulsion at the front and back. It's like a contained fleet, able to house as many Carriers as needed. This shape is meant to reflect a Hookah on its side.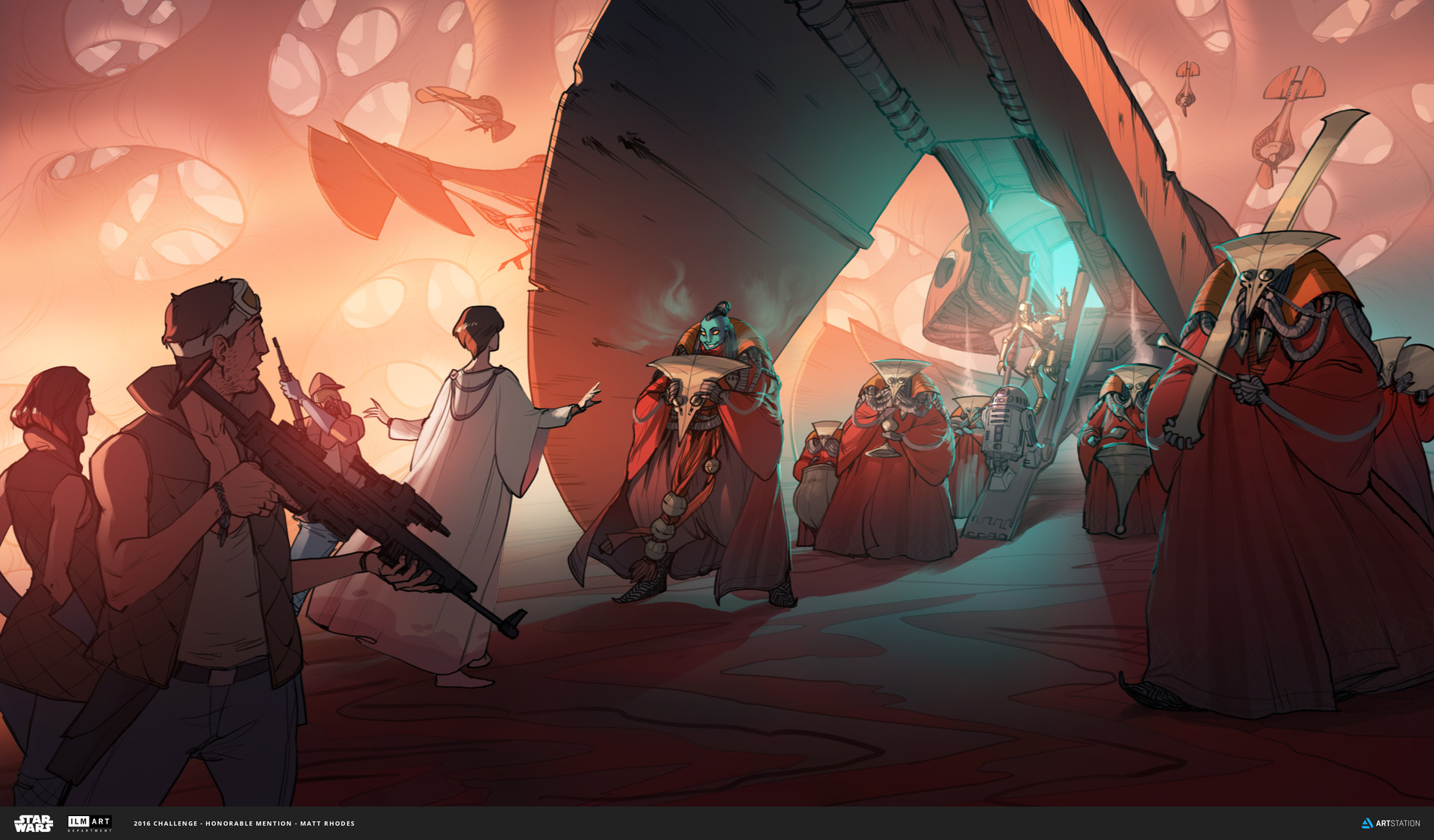 The Danji are arriving in the cavernous, coral-like base of Sookah. They are exiting their ships and marching towards the nervous Rebels. Mon Mothma steps forward, meeting the Danji leader, who removes her helmet...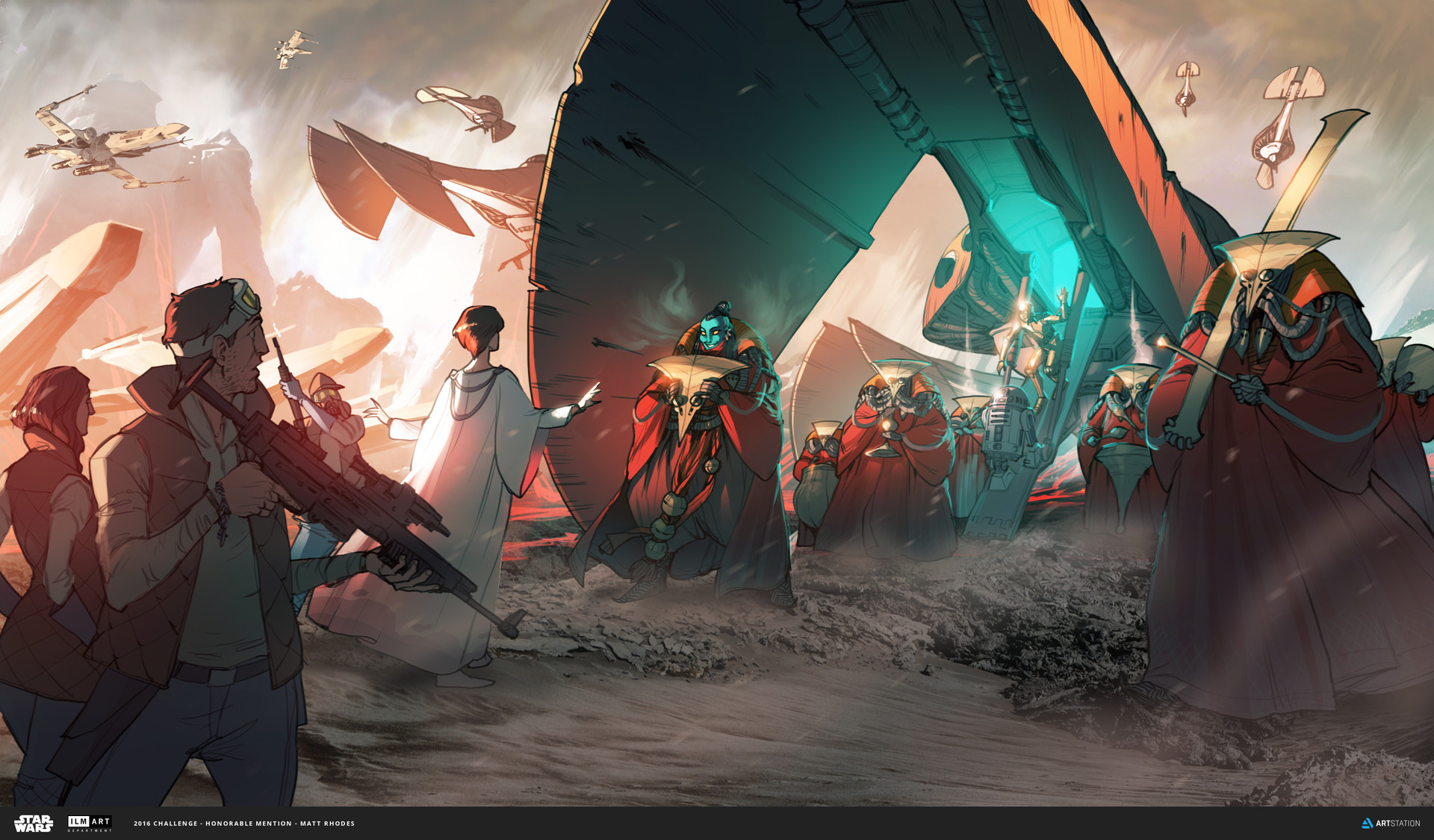 Moody sky, lava planet, Rebel's and their ships, Danji and their ships, 3po and r2! It's a lot to wrangle, but I think that I like it much more with this revision.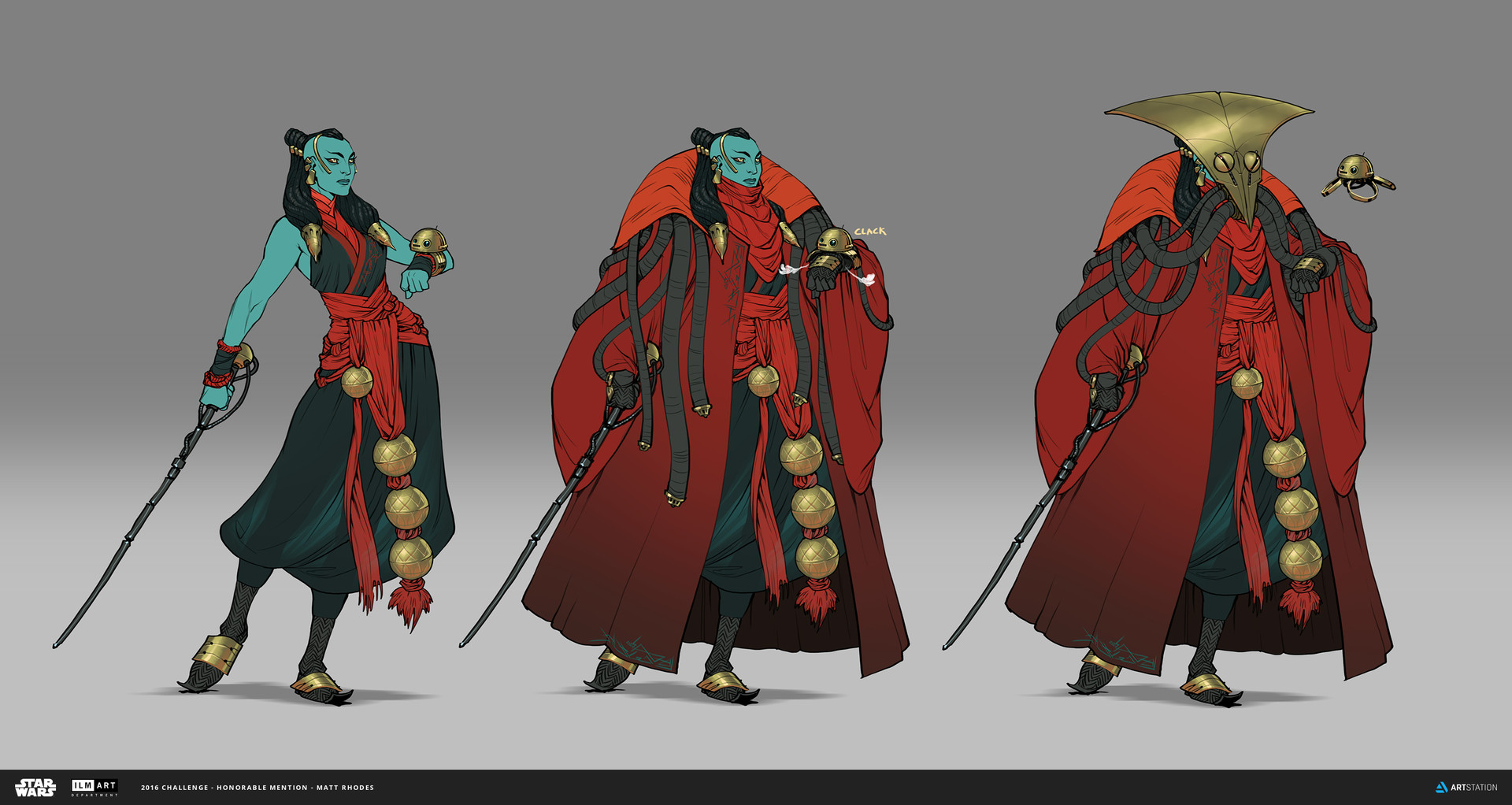 Swana Here's my model sheet for Swana, with DD-3 on her wrist. She's based on Princess Yuki from Hidden Fortress, especially her eyebrows/eyes and her bamboo scepter/whip. It was a cool exercise to elaborate on the version of her from earlier.

DD-3 He is very small, so I thought his primary task could be to "mind control" much bigger droids with various purposes (essentially making all droids his "swiss army knife" of abilities). I made him bronze to fit the Danji palette I've been working wit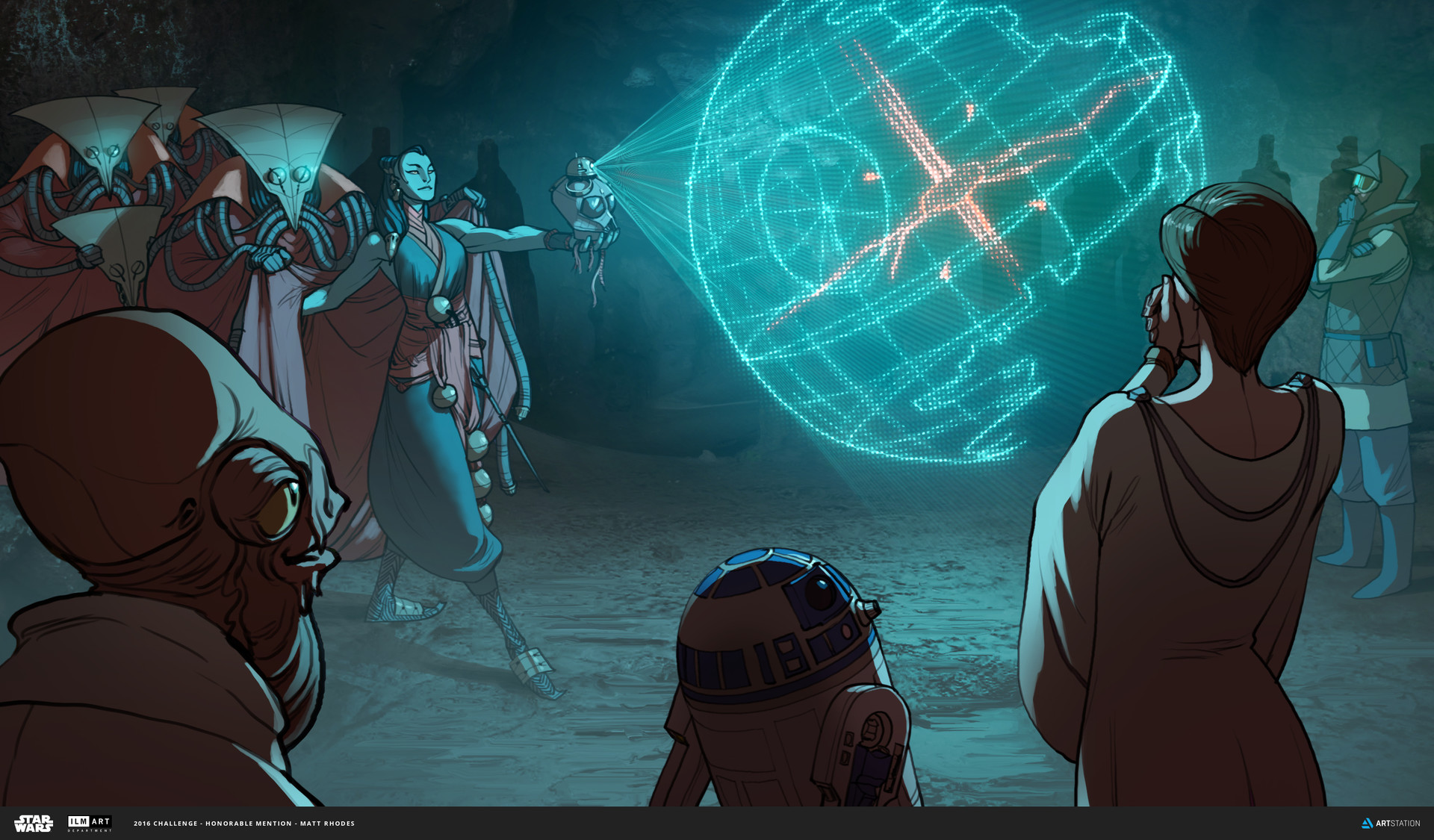 "Plans" Swana removes her outter cloak and reveals the plans for the second deathstar to Mon Mothma, R2 and Admiral Ackbar. The plans were stuck in the head of an Empire Droid (RA-7), but DD-3 could extract them.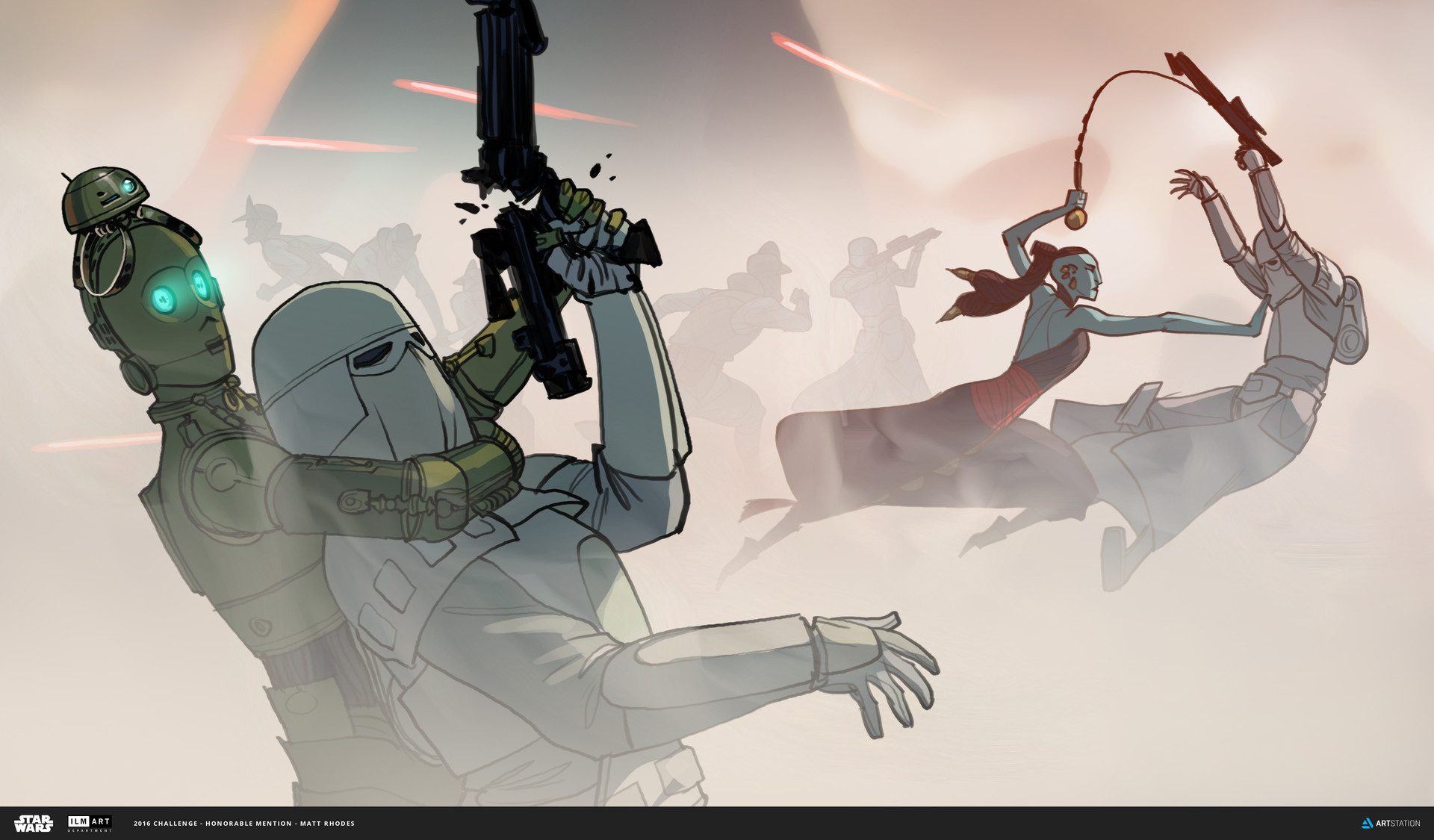 "Combat" Swana uses her flexible wand to deflect the enemy's weapons in order to engage in hand-to-hand combat. While she fights, DD-3 takes control of nearby droids to support her.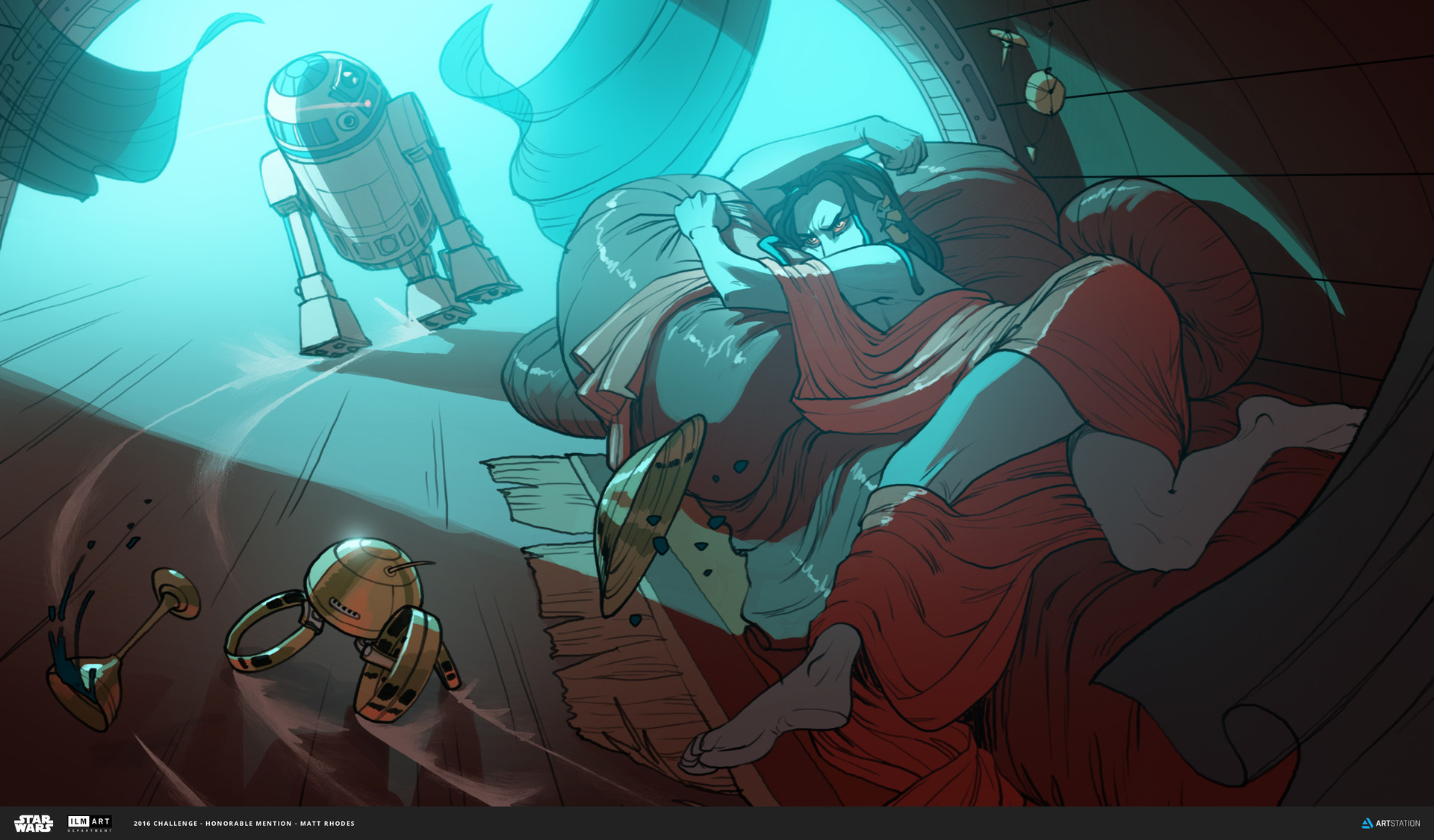 "Pest" Swana tries to sleep, but DD-3 won't stop chasing R2 around the interior of her ship.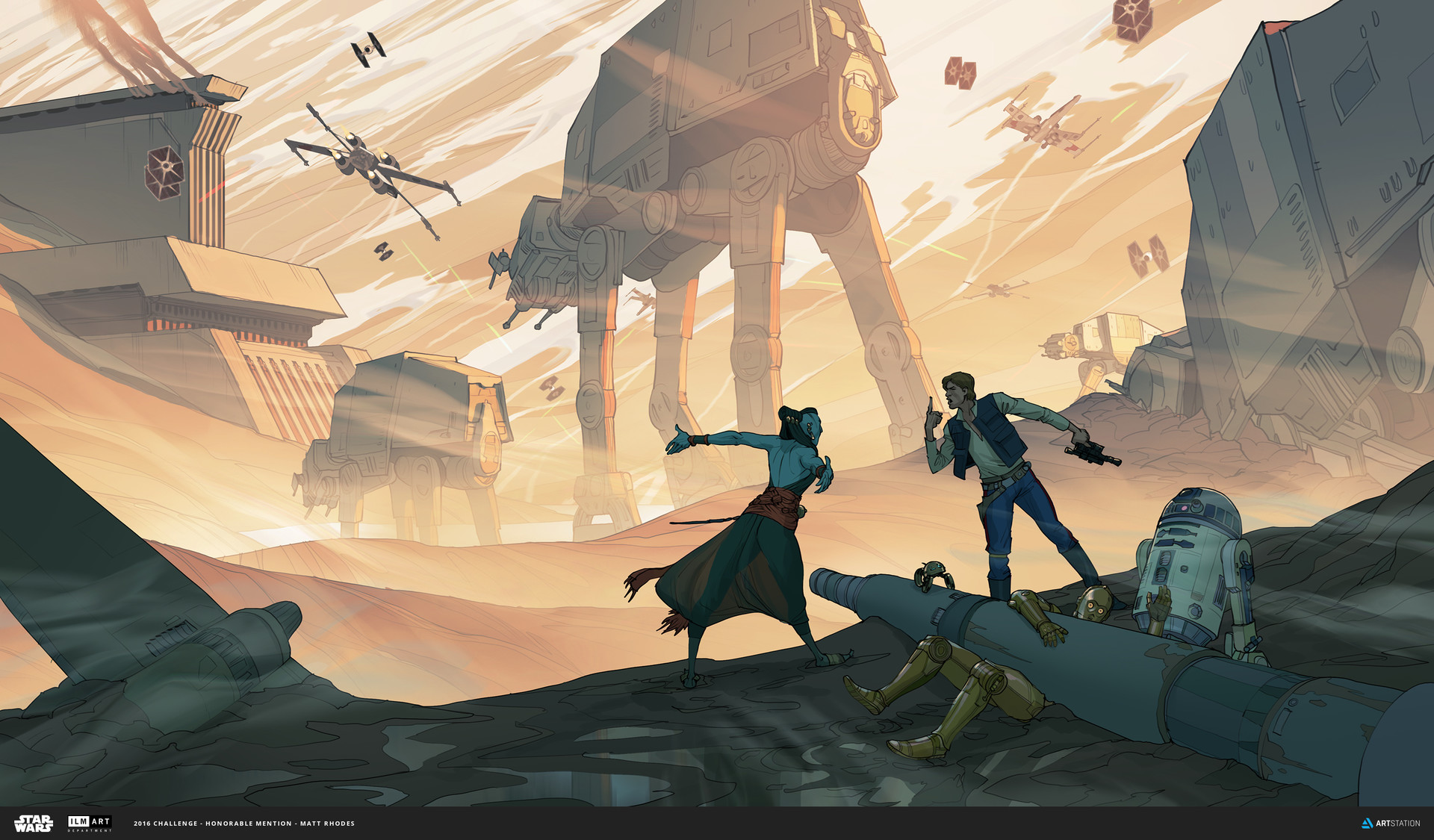 "Twelve!" Swana - Aren't you the pilot who did the Kessel Run in fifteen parsecs? Han - Twelve! I wanted to echo Swana and Hans conflict with the battle going on behind them.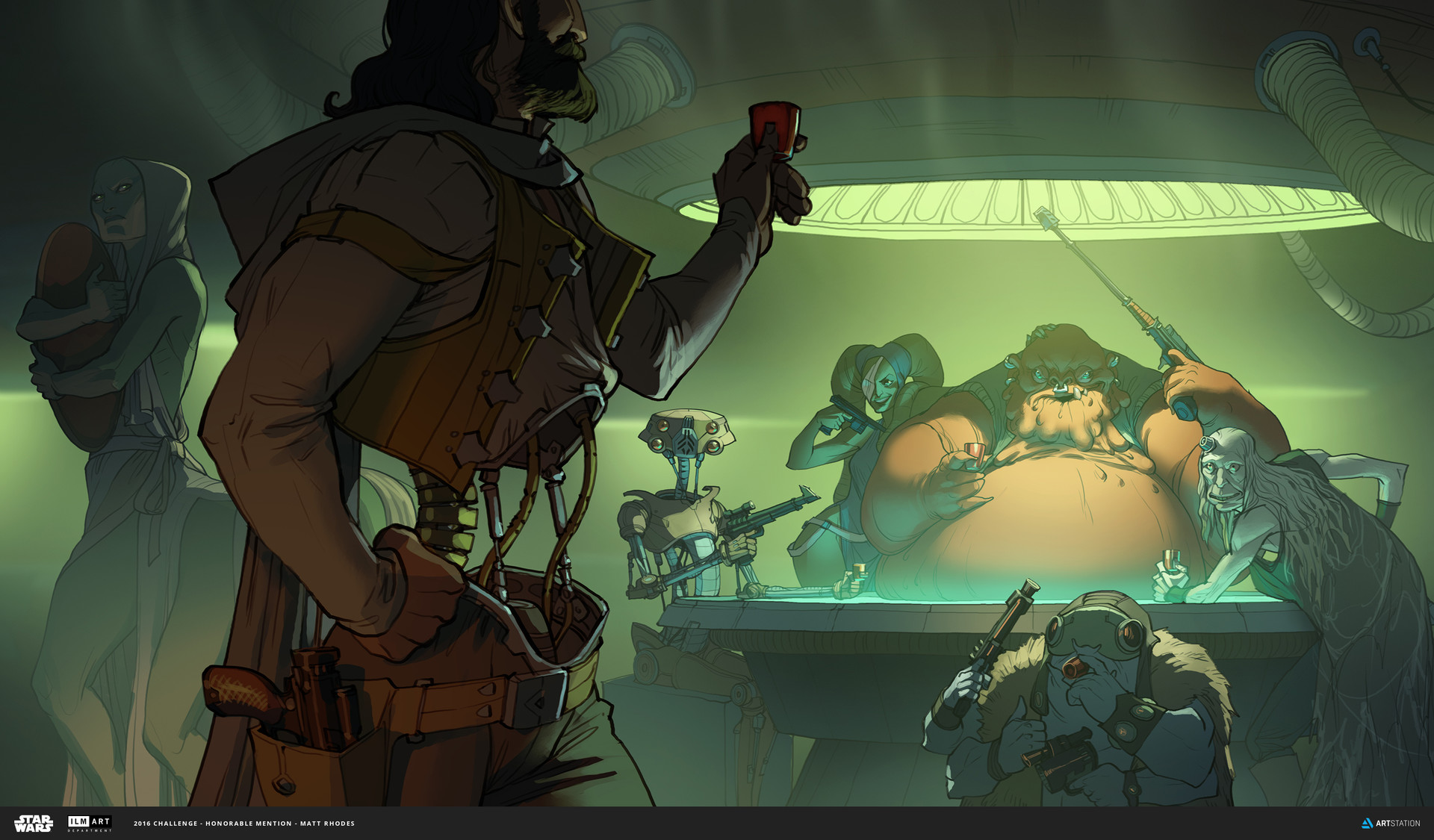 "True Manu Grit" It's always fun to design characters that are clearly up to no good. From left to right is: Bar Maid with her six legs, half-droid bounty hunter Manu Grit, Uru, Yot, big red Crax, multi-armed Myx Dur in front, and spidery Tar Ken.
Brief: This is a simulation of working as a concept artist in a production environment. It will be fast-paced. Expectations will be high. Directions may be vague and could be changed at the last minute… But hey, all in a days work at ILM.
Part 1- Keyframe 1
Part 2 - Vehicle sketches
Part 3 - Ketframe 2
Part 4 - The director has changed his mind
Part 5 - Dealer's choice, droid or character
Part 6 - The end